In the search for a better Covid-19 therapeutic, GlaxoSmithKline and Vir have partnered up on two antibodies they hope have a chance. GSK is also testing its own in-house antibody, and early results may have shut the door on its widespread use.
A combination of GSK's monoclonal antibody otilimab plus standard of care couldn't best standard of care alone in preventing death and respiratory failure in hospitalized Covid-19 patients after 28 days, according to data from the Phase IIa OSCAR study unveiled Thursday.
Adding otilimab resulted in just a 5.3% difference in clinical outcomes to patients treated with standard of care, not enough to hit statistical significance. It's unclear, however, how badly GSK missed the mark in the 806-patient study because the drugmaker didn't release a p-value.
But it's not necessarily game over for otilimab. In a prespecified analysis, 65.1% of otilimab patients over the age of 70 were alive and hadn't had a respiratory failure at the 28-day mark compared with 45.9% of patients in the standard of care arm. That came out to a p-value of 0.0009, well within the range of statistical significance. Meanwhile, at the 60-day mark, 26% of patients 70 and up in the otilimab arm had died compared to 40.4% on standard of care alone. That difference just squeaked under the significance mark at p=0.04.
With some promise in that high-risk cohort, GSK will expand its 70-and-up cohort in the OSCAR study to 350 patients to determine whether it will continue otilimab in hospitalized patients in a Phase III test.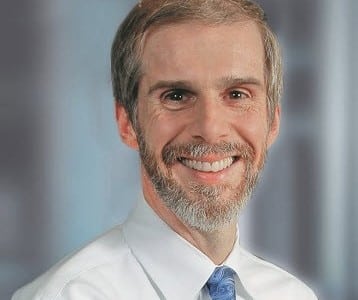 Chris Corsico
"Given the profound impact this pandemic is having on the elderly and the encouraging data we are sharing today, we are hopeful this finding will be replicated in the additional cohort," said Chris Corsico, GSK's senior VP of development, in a release.
GSK is hoping its very mixed results for otilimab, a granulocyte-macrophage colony-stimulating factor antibody, aren't replicated in the more advanced antibody it's walking through Phase III trials with partner Vir Biotechnology.
Back in December, the NIH announced it would test GSK and Vir's candidate, dubbed VIR-7831, as well as an antibody combo from Brii Biosciences in an initial population of 450 moderately ill Covid-19 patients over the course of five days. After five days, those patients' conditions will be assessed on two seven-point ordinal scales; then, based on both candidates' safety and efficacy, an additional 1,050 patients would be added to a second phase of the study, some of whom may have severe illness. The study will assess both drugs' ability to induce sustained recovery, judged by a hospital discharge and patients living at home for 14 days before a 90-day followup.
Early results from that study — the NIH's ACTIV-3 "master protocol" — still have yet to be reported.
The NIH took on GSK and Vir's antibody soon after it decided to scrap LY-CoV555's shot in ACTIV-3 study after finding little clinical efficacy. At the time, Lilly forwarded the theory that patients in the NIH trial may have shown little effect on LY-CoV555 because they had already been infected for a longer duration and had received standard of care as well as Gilead's remdesivir prior to treatment.
The GSK-Vir pair also sports a second partnered antibody — VIR-7832 — that they announced in January would enter a Phase Ia/IIB study for hospitalized patients and those in the early stage of the disease. The partners think they could have a winner there, saying their newest antibody has shown an "enhanced ability to clear infected cells and potential to enhance virus-specific T cell function, which could help treat and/or prevent COVID-19 infection."
For a look at all Endpoints News coronavirus stories, check out our special news channel.