In a hot market market for NASH, having big-name backers can help shine a spotlight on startup players looking to make a mark. That was certainly the case for Terns Pharmaceuticals and partner Eli Lilly, which provided seed funding and licensed three NASH candidates to the baby biotech back in 2018.
Now, with two of those candidates in the clinic, Terns has bagged new funding to help speed toward the finish line.
After scoring $120 million in two early rounds, Terns raised an $87 million Series C funding round with Deerfield Management leading alongside OrbiMed Advisors, Lilly Asia Ventures, Vivo Capital, Samsara Capital, Suvretta Capital Management and several others. Lilly also jumped aboard with a strategic equity investment.
Terns, co-founded by Novartis veteran Weidong Zhong, is funneling the money into three of its NASH programs, one of which — TERN-101 — is expected to produce topline Phase IIa data in the second half of 2021, and another of which — TERN-501 — is headed for the clinic.
In 2018, Zhong told Endpoints that the idea for the company was to partner a California-based discovery team with a small development group in China to efficiently develop new drugs primarily for the Chinese market. Lilly Asia Ventures sunk in $30 million to get it going, a move which came about a year after Lilly closed its Shanghai R&D base.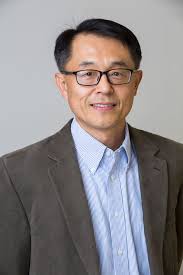 Weidong Zhong
"In 2021, we expect to have three promising clinical-stage therapeutic candidates with meaningful near-term milestones," Terns CEO Senthil Sundaram said in a statement.
TERN-101, the furthest along, is a liver-directed non-bile acid farnesoid X receptor (FXR) agonist. It's being tested on 96 patients in a Phase IIa study, dubbed LIFT. While Terns faces competition from other NASH players like Intercept and AbbVie, which snagged an FXR agonist in the Allergan buyout, the company thinks its candidate's safety profile is where it will stand out. In four Phase I trials, none of 119 subjects in the treatment arm reported pruritus, and their serum lipid profiles were similar to those in the placebo arm at all doses, according to the company's website.
TERN-201, a vascular adhesion protein (VAP)-1) inhibitor, is expected to enter a Phase Ib trial in the first half of 2021, with a topline data readout anticipated in the first half of 2022. And TERN-501, a thyroid hormone receptor (THR) beta agonist, is entering a Phase I trial in the first half of 2021 with topline data coming in the second half of 2021.
Terns, named after the small, tough water bird, closed an $80 million Series B in October 2018 led by Vivo Capital and OrbiMed. Zhong, who spent some time working in liver diseases at Gilead, told Endpoints in 2018 that he liked the idea of going back to the liver and bringing in oncology as a way to distinguish the startup in China.