A little over two months after Jounce Therapeutics $JNCE sold its latest experimental cancer drug to Gilead, the company's lead program has failed to clear the Phase II hurdle.
Jounce's Phase II study evaluating the ICOS-targeting vopratelimab in non-small cell lung cancer flopped with only 1 of 50 patients showing an overall response, and the company has decided to shut the trial down rather than continue enrollment, the biotech announced Monday. Researchers had been studying whether or not vopratelimab could produce a meaningful response in combination with BMS' Yervoy for patients with PD-(L)1 resistant NSCLC.
Investors did not take the news fondly, as Jounce shares sunk roughly 30% when the market opened Monday morning. The stock rebounded slightly later in the day and closed Monday down 18%.
Prior to Monday's news, Jounce had recruited 59 patients for the study, 50 of whom were evaluable across the three dosage levels. The company set forth three criteria to continue enrollment, none of which were met when combining the data in the dosing arms.
In order to continue the study, Jounce needed to see tumor reduction in more than half of patients, an average overall survival tracking to at least 13 months and an overall response rate of greater than 10%. Vopratelimab didn't meet any of these goals, with the data for all doses combined showed tumor reductions in 19 of the 50 patients. The average overall survival was 11.6 months.
Jounce also noted that the highest dosage cohort, 0.10 mg/kg, was the only group to see more than half of patients' tumors reduce in size, with 12 of those 22 patients having tumor reduction. The one patient showing an overall response led to an ORR of just 4.5%. The full biomarker analysis is not yet complete, the company noted, and the combination continued to be safe and well-tolerated.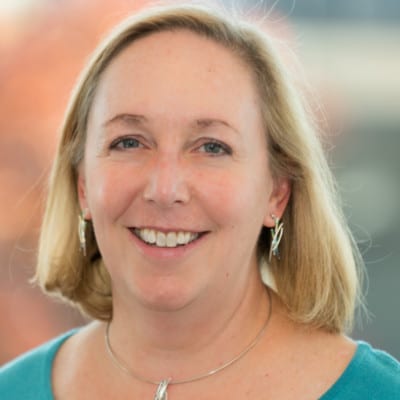 Beth Trehu
With less than half of patients seeing the reduction, the results could indicate that "CD4 T cell activation by CTLA-4 inhibitors may be impaired in PD-(L)1 inhibitor resistant patients," Jounce CMO Beth Trehu said in a statement.
The biotech had been hoping that positive results in this trial would lead to a Phase III that would compare the vopratelimab-Yervoy combo to the chemotherapy docetaxel in a randomized setting, with overall survival being the endpoint.
That's likely out the window now, but Jounce hasn't given up hope on vopratelimab — the company has begun another Phase II for the experimental drug in combination with Jounce's proprietary PD-1 inhibitor, JTX-4014, with enrollment starting last month. The trial is looking to measure the combination against JTX-4014 alone in immunotherapy naïve NSCLC patients who have been pre-selected with a predictive biomarker.
Monday's news comes just two months after Jounce saw Gilead pour $120 million in cash into the company, including a $35 million equity stake, in order to purchase an anti-CCR8 drug dubbed JTX-1811. That deal came a little over a year after Jounce amended its deal with Celgene, now a part of BMS, to gain worldwide rights to a LILRB2-targeting antibody and left Jounce free to push forward with vopratelimab in-house.