Months after reeling in a $78 million Series B round, Silverback Therapeutics has hooked an even larger Series C.
The Seattle-based company announced Wednesday that it netted $85 million from a slate of new and previous investors. The quick boost could be a sign that an IPO is on the way.
In an email, Silverback CEO Laura Shawver told me she was "not able to provide any additional comments about Silverback" beyond what was shared in the company's news release. In the prepared statement, she said the company is at "an important growth phase."
In March, around the time of its Series B announcement, Silverback laid out plans to re-conceptualize antibody-drug conjugates. Whereas other ADCs deliver cancer-killing toxins, Silverback is using the tech to deliver immune-stimulatory agents. Its lead candidate, SBT6050, delivers a TLR8 agonist to HER2-expressing tumors in the hopes of activating and reprogramming myeloid cells to drive an immune response. The company says it will use its latest round to advance the drug, which is in Phase I testing, as well as other ADC candidates.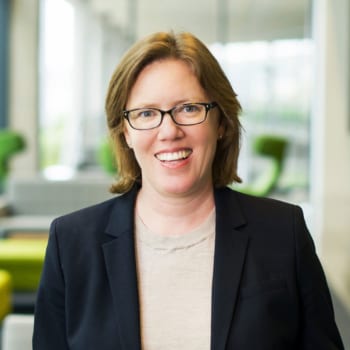 Valerie Odegard
"TLR8 is the innate immune receptor expressed in human myeloid cells, and the ability then to systemically deliver an agent, whose activity is localized to the site of the tumor and only activates myeloid cells in the tumor is a very exciting therapeutic," CSO Valerie Odegard told Endpoints News back in March.
The Series C saw some help from returning investors OrbiMed Advisors, US Venture Partners, Nextech Invest, Hunt Technology Ventures, and Pontifax Venture Capital. New investors Boxer Capital of Tavistock Group, Fidelity Management & Research Company, Nantahala Capital Management, and RA Capital chipped in.
Silverback also seized the opportunity to announce two promotions: Odegard, who's been the company's CSO for two years, is adding president to her title. And Naomi Hunder jumped from senior VP of clinical research and development, where she's been for about a year and a half, to CMO.
"We are at an important growth phase for the company and their ongoing leadership will be critical as we progress SBT6050 through clinical development, as well as advance our robust preclinical pipeline," Shawver said in a statement.
The cancer space is abound with ADCs, including Immunomedics' Trodelvy, which was recently approved for metastatic triple-negative breast cancer. The biotech, which is set to be acquired by Gilead, presented positive new data at virtual ESMO 2020, and is racing toward approval in urothelial cancer, where it will compete with Seattle Genetics' ADC Padcev.
Earlier this year, Daiichi Sankyo and AstraZeneca's Enhertu was approved for breast cancer — months ahead of schedule. And Roche's Kadcyla, approved for HER-2 positive breast cancer, scored huge sales last year.