Continuing its efforts to ramp up global AI operations, GlaxoSmithKline has opened a £10 million ($13 million-plus) research base in Kings Cross, London.
The AI hotspot is already home to Google's DeepMind, and the Francis Crick and Alan Turing research institutes. GSK said it hopes to "tap into the huge London tech talent pool" and attract candidates who might otherwise head to Silicon Valley.
"It's a vibrant ecosystem that has everything from outstanding medicine as well as also being a big tech corridor. DeepMind is there. Google is there. It's near the Crick Institute, and of course modern computing was born, basically, with Alan Turing and the Turing Institute," GSK R&D president Hal Barron said at a London Tech Week fireside chat. "So we are quite convinced that both the talent and the ecosystem will enable us to build a very vibrant hub in London, getting the top talent, the best thinkers and people to be able to interact with us in GSK to take technology and help us turn it into medicines."
The company believes AI has the power to vastly improve its drug discovery process. It claims that genetically validated drugs are twice as likely to be successful. And GSK has lots of genetic data to work with. The new workspace, located in the Stanley Building, has already lured in 30 scientists, 10 of whom are in the company's AI fellow program.
In fact, many biotechs are now turning to AI, which they believe can speed up successful development by analyzing hundreds of genes at once or rapidly screening billions of molecules.
"GSK is focused on finding better medicines and vaccines — not just better products, but finding them in better ways, so we are using functional genomics, human genetics and artificial intelligence and machine learning," the company said in a statement.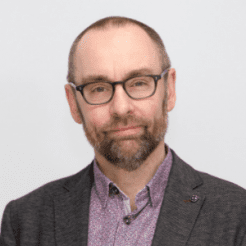 Tony Wood
It also has AI researchers based in San Francisco and Boston, and aims to reach 100 AI-focused employees by mid-2021. "Our goal is to have the best and brightest people in the world to join us," Barron said.
"In AI, we are scouring the planet for the best people. These folks are very rare to find. Competition is high and there aren't a large number of them," Tony Wood, GSK's SVP of medicinal science and technology, told The Guardian in December.
The new London hub has the capacity for 60 to 80 staff members. Now all that's left to do is fill it.