With big money pacts with Gilead and AbbVie under its belt, Galapagos has become a hefty partner to smaller biotech players in its own right.
The Belgian biotech has expanded a collaboration with Fibrocor Therapeutics — grabbing exclusive options to four more fibrosis programs and taking an equity stake in the company. Once Fibrocor completes the research work up to lead optimization, Galapagos may take over development.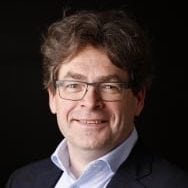 Piet Wigerinck
Working out of Toronto, Canada, Fibrocor, however, has some European roots. Toronto Innovation Acceleration Partners (formerly MaRS Innovation) helped a group of academic investigators launch the startup in 2018 together with Germany's Evotec, the CRO known for creative dealmaking.
Fibrocor's key idea was to leverage its access to over 20 years of kidney biopsies form a local hospital, applying data mining techniques and a genomics platform to hunt for promising targets linked to fibrosis. Their lead compound is in chronic kidney disease (expected to be IND ready within a year), but they also boast of programs in the liver, lung and other organs.
"The discovery approach at Fibrocor is clearly successful in identifying interesting novel targets, and we are fully committed to working closely with the Fibrocor team to discover new therapies to address the large unmet medical need in fibrosis," Galapagos CSO Piet Wigerinck said in a statement.
Currently Galapagos lists idiopathic pulmonary fibrosis as a major effort just after its flagship programs in inflammatory diseases — led by the Gilead-partnered blockbuster hopeful JAK inhibitor filgotinib. They also had a portfolio of cystic fibrosis drugs, which AbbVie bought out for $45 million upfront despite some weak Phase II data.
The company first tied up with Fibrocor last January, teaming up on a small molecule inhibitor geared toward an undisclosed fibrotic target.