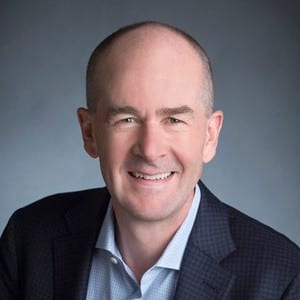 Brian MacDonald
Brian MacDonald?s original foray into the field of treating iron dysregulation by injecting hepcidin, a small peptide hormone that is key for?iron homeostasis, didn?t quite get off the ground. This time, the former GSK executive is taking a fresh approach ? by regulating hepcidin expression within the body.
His new company, called Disc Medicine, was seeded by Atlas Venture in 2017. On Tuesday, it emerged with $50 million in series A funding, led by Novo Holdings A/S and the participation of Access Biotechnology and founding investor Atlas Venture.
Hepcidin, or hepatic bactericidal protein, was initially identified as a urinary antimicrobial peptide rich in cysteine. It is produced in the liver ? and now understood to control the absorption of iron from the diet and the transfer of iron from cellular stores for infusion into hemoglobin.
?It is to iron, what insulin is to glucose,? MacDonald told Endpoints News.
Diminished hepcidin levels trigger an iron overload, while high hepcidin starves the body of iron and limits its ability to make red blood cells. Chronic hepcidin dysregulation is implicated in conditions associated with impaired red blood cell production, such as myelodysplastic syndromes, thalassemia, and anemia.
Disc Medicine, which intends to address both iron overload and iron deficiency, has two programs in its arsenal. The first is an oral inhibitor engineered to inhibit matriptase-2, a key suppressor of hepatic hepcidin expression, to treat iron loading anemias. It is in the lead optimization stage, and the company plans to have a development candidate in place in the next twelve months.
The second program, which Disc in-licensed from AbbVie, is a monoclonal antibody that targets hemojuvelin ? a regulator of hepcidin production ? to suppress hepcidin expression and tackle anemia that is associated with a range of chronic inflammatory and hematologic diseases.? It is in preclinical development.
If all goes well, MacDonald anticipates both programs should be in the clinic by 2021.
Back in 2011, MacDonald co-founded Merganser Biotech to focus solely on treating disorders associated with iron overload, by injecting hepcidin mimetic peptides. But that effort flailed in Phase I, he said.
Other drug developers are still betting the approach will work, including Protagonist Therapeutics. The Newark, California-based company?s lead experimental drug, PTG-300, is a hepcidin mimetic peptide in mid-stage development for use in beta-thalassemia.
For MacDonald, the Merganser failure came with perks ? he realized that an oral small molecule approach is more patient-friendly and that it was ?probably safer to administer something that changes the body?s production hepcidin in rather than having to administer another dose of hepcidin.?